8 practical tips for overcoming financial struggles in business
At some point or another, everyone struggles financially in their business.
There are many reasons for it; It could be when you're starting out, or when you've lost a big-ticket client, if you're absent from your business for an extended period, illness, injury, or a chance in circumstances.
And with the world experiencing a global pandemic like it is now, there are additional factors that make it hard for some businesses to thrive.
If you're struggling financially right now, just know that you're not alone. There is no judgement coming from me, I've certainly experienced my share of financial hardship too. It happens to use all.
In this blog I'm going to share 8 practical tips you can take to either:
Earn more money; or
Improve your money management.
What can you do right now?
Here's my 8 tips for overcoming financial struggles:
#1 Create a budget
I know this doesn't sound like the best way to spend your evening (unless you're a total budget nerd like me!) but creating a budget for yourself is a very empowering way to take control of your money.
A budget shows you what you earn and what your expenses are. If you're earning less than your spending, that's what is causing your financial strain.
Create a budget for yourself – this doesn't have to be complicated. List all the sources of income you have and how much you'd earn on average in a week or month. Then do the same for your expenses.
Once you've created a budget you might be surprised what you learn about your money habits. But it also gives you the power to make really good decisions about how you spend and earn your money.
#2 Review your expenses
Now that you've got a budget in place you can review your expenses to check for any unnecessary spending.
If you haven't done this in a while you might be surprised by how much you're paying out for things you no longer need or use. Go through a couple of months' worth of bank statements to see what you're paying for.
You can do this for your business expenses as well as your personal expenses.
If there's anything you no longer need, or that you can cut back on, then it saves you money that can be used for more important things. Look out for things like software or membership subscriptions that you've forgotten about and no longer need.
Anything you spend your money on that are not needed, go ahead and cancel those. Perhaps there are also some luxuries that you can cut back on until your finances become stable again.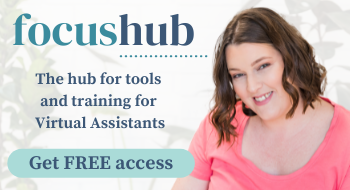 #3 Sell things you no longer need
How long has it been since you decluttered your home or office? There could be heaps of things you no longer need that you can sell.
My family and I did this a couple of months ago and raised well over a thousand dollars from things we no longer need.
Not only is it great to exchange our unwanted things into money, but the decluttering was therapeutic as well.
#4 Smooth out your cash flow
Bills don't always come at regular times. They could be weekly, monthly, quarterly, or annual bills.
Paying smaller, regular amounts can help you manage your bills and avoid "large bill shock". Like that annual software bill that you forgot about! Just check there aren't additional fees for regular payments.
#5 Chase up unpaid invoices
Do you have clients with overdue invoices? It's easy to forget invoicing clients when you're busy, and some unpaid invoices slip through the cracks. Or you might feel a bit awkward or anxious about contacting clients about money they owe you.
But if you've provided the service, then you're entitled to earn the money in exchange. You've got a business to run and a family to support. So go and remind your clients about their unpaid bills.
#6 Consider a price rise
If you're struggling financially, it may be because you're living above your means. This is another way of saying that you're earning less than you're spending.
If you've gone through and eliminated any unnecessary spending but you're still not earning enough? Then it's a sign that you're not charging enough.
When was the last time you had a price rise?
Perhaps it's time to increase your rates. How much extra per month could you earn if you increased your prices by 5% or 10%? I bet that would help your cash flow quite a bit.
#7 Look for more work
If you've got the capacity, you can earn more money by taking on more client work. Not the most exciting part of business, but necessary when you're in a tight spot.
Take action by getting in touch with current or past clients to see if they need any additional support. Spend time each day responding to job leads from various sources. Reach out to friends, family and business connections to let them know you're on the lookout for more clients.
Perhaps you need to look for a part-time job to support you financially while you regain stability in your business. I know it's probably not your preferred option, but it's only temporary and it does remove a great deal of weight off your shoulders.
#8 Work on your money mindset
You might be thinking, "How is some woo-woo stuff going to put more money in my pocket?"
Let me put it this way: Your beliefs influence your actions, which influence your results.
I know it's stressful to be struggling with money, but it becomes a lot easier to cope and take action when you have a balanced mindset around money.
Here's an example. If you are stuck in a rut with your money, and believe you'll never get out of it, then what happens? You'll never feel energetic enough to do anything about it. You'll tell yourself things like, "I'll probably never get another client anyway."
As a result, you won't put effort into responding to job leads, and as expected, you won't get any new clients. This proves to yourself that you'll never gain any new clients. The cycle keeps going.
On the other hand, if you have a more balanced mindset, you'll believe "I'm very capable of signing on new clients". And you'll spring into action to respond. The more your respond to, and the more effort they see you make, the more likely you will sign on new clients.
So, if you have opportunity and resources to work on your money mindset, then it's a positive action step you can take to regaining financial stability.
It won't be forever
I want to reiterate that money struggles happen to everyone, so you're not alone. And it won't last forever. Take practical steps to work on your finances, and practice gratitude when you do receive, and you'll notice positive changes quickly.
Practical steps checklist:
Create a budget
Remove unnecessary expenses
Sell things you no longer need
Smooth out cash flow
Chase unpaid invoices
Consider a price rise
Look for more work
Work on your money mindset
Disclaimer
Information provided on this website is general in nature and does not constitute financial advice.
Michelle Marks will endeavour to update the website as needed. However, information can change without notice and Michelle does not guarantee the accuracy of information on the website, including information provided by third parties, at any particular time.
Every effort has been made to ensure that the information provided is accurate. Individuals must not rely on this information to make a financial or investment decision. Before making any decision, we recommend you consult a financial planner to consider your particular investment objectives, financial situation and individual needs.
Michelle Marks does not give any warranty as to the accuracy, reliability or completeness of information which is contained in this website. Except insofar as any liability under statute cannot be excluded, Michelle Marks, its employees do not accept any liability for any error or omission on this website or for any resulting loss or damage suffered by the recipient or any other person.
About the author
Michelle is a chocoholic, stationery obsessed Business Coach from the seaside town of Mandurah, WA. She specialises in working with Virtual Assistants and B2B service providers, helping them to grow a fulfilling, sustainable and profitable home-based business.
Shall we keep in touch?
Keep up to date with the latest updates, biz resources and training by joining my list. Unsubscribe anytime.