10 Most Popular VA Services of 2022
If you're curious about which VA services are the most highly sought after by clients in Australia in 2022, then you're in luck!
I recently interviewed Rosie Shilo, known as The Virtual Assistant Advocate, about which services are the most popular this year. Rosie has great insight into this topic as the founder of Virtually Yours, a network that connects Virtual Assistants with clients.
Rosie has been collecting data that comes through her lead network and generously gave us a summary of the services clients are asking requesting this year.
You can learn more about Rosie Shilo and the Virtually Yours Network here.
If you'd prefer to watch this interview with Rosie, click the play button below.
---
10 Most Highly Sought-After VA Services:
1) Diary and Calendar Management
If you love keeping other people organised, then this service is up your alley.
Diary and calendar management involves keeping track of your client's appointments, travel time, time-blocking and other related entries to ensure that everything is catered for and that there are no overlaps.
Diary and calendar management came in at the most highly sought-after service that clients are requesting this year. If this is on your list of services, there's plenty of work around for you.
2) Email Management
Almost every business owner in the world has at least one email inbox… and they fill up! So, it makes perfect sense that email management would be high up on the list here.
If you're keen to tame the inbox of your clients, making sure that they're all actioned, responded to, and filed appropriately then you're in!
This service ranked number 2 of the most popular VA services.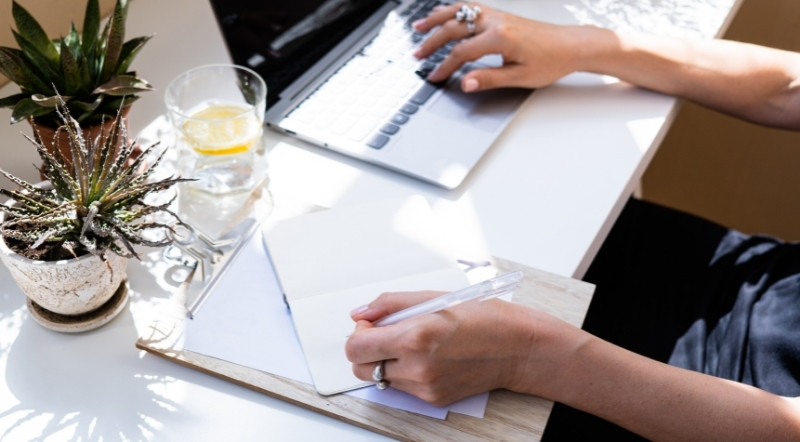 3) General Administration
When it came to the 3rd most popular VA service, Rosie commented that "General Administration" was it. This can mean several different things;
It means that the client needs help in several different areas of their business, or
The client doesn't know what they need help with, they just know they need help.
So, if you like variety and have the skills you'll find plenty of varied work available.
4) Phone Support / Reception
Reception services are in demand right now. Businesses who need support in answering their calls will find great value in a VA skilled in phone support.
While it's not as simple to offer as you think, those who offer quality phone support services fill up quite quickly.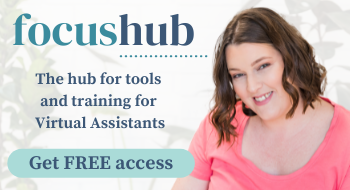 5) Social Media Management
Do you love creating and scheduling content? Then you'll be pleased to know that social media management is high on the list of services your clients are looking for.
This service can include planning, creating, and scheduling content for social media platforms, as well as setting up accounts, and community engagement.
6) Automation and CRM Support
Apps and software are the tools of the trade for many business owners. When a business owner uses multiple different types of software, they'll probably need each app to work together to streamline the processes. This is where a VA with automation knowledge and skill can provide their expertise in this area.
CRM (or Customer Relationship Management) software is widely used by businesses to manage and track their client leads. Since it's a "techy" topic, they'll need someone with the relevant experience to keep all the cogs turning in the CRM software. If you're one of those people, you've got skills clients really need!
7) Bookkeeping
Every business in the world needs to track their incoming and outgoing money; it's just one of the necessities of running a business. It's a task that requires skill and experience so business owners will outsource this instead of attempting it themselves.
If you're a lover of numbers, and you've got the required training and registration from TPB, then there's plenty of work out there waiting for you.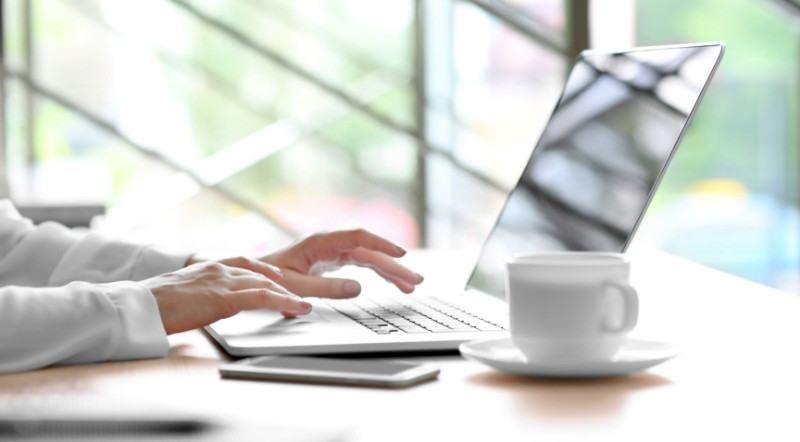 8) Copywriting
Got a way with words? Copywriting is a highly needed skill for business owners. From website copy, and email marketing content, through to blogs and product listings, copywriting is something that can keep you very busy.
9) Transcription
Coming in at the 9th most highly sought-after VA services is transcription. The service includes typing out audio and handwriting notes with the purpose of creating a digital copy of the transcript. If you've got the skill, clients need you.
10) Online Business Management
As business owners grow and scale, they recognise the need for bringing in someone to manage their team and projects. An Online Business Manager is skilled in this area and can help their client take their business to the next level.
Let's Recap
Let's recap on the most high-sought after VA services in 2022:
Diary and calendar management
Email management
General administration
Phone support
Social media management
Automation and CRM support
Bookkeeping
Copywriting
Transcription
Online Business Management
What if my service didn't appear on the list?
If your area of specialty hasn't appeared on this list, then don't panic. It doesn't mean your business will fail. This list represents the type of work clients are asking for, but it certainly doesn't mean your service aren't needed.
Here's a great example: 4 years ago, I was a Graphic Designer, and my area of specialty was in document formatting. While this service wasn't a highly sought-after service back then either, I was fully booked with high quality, high paying clients. I almost needed to get an extra designer to help me.
Just because your service didn't appear on the list, doesn't mean you're not needed.
I offer these services, does this mean I'm in a saturated market?
Yes, you're in a saturated market - but that doesn't have to be a bad thing. The beauty of being in a saturated market is that you have the room to specialise.
Take social media management for example. You'll stand out from the others because of your unique area of expertise, style, and industry experience. You don't have to settle for any client, for any social platform, for all the things.
If you want to focus on organic Instagram marketing for beauty therapy clients, you probably can! If you want to focus on paid Pinterest marketing for artists, you probably can! The world is your oyster when you're in a saturated market.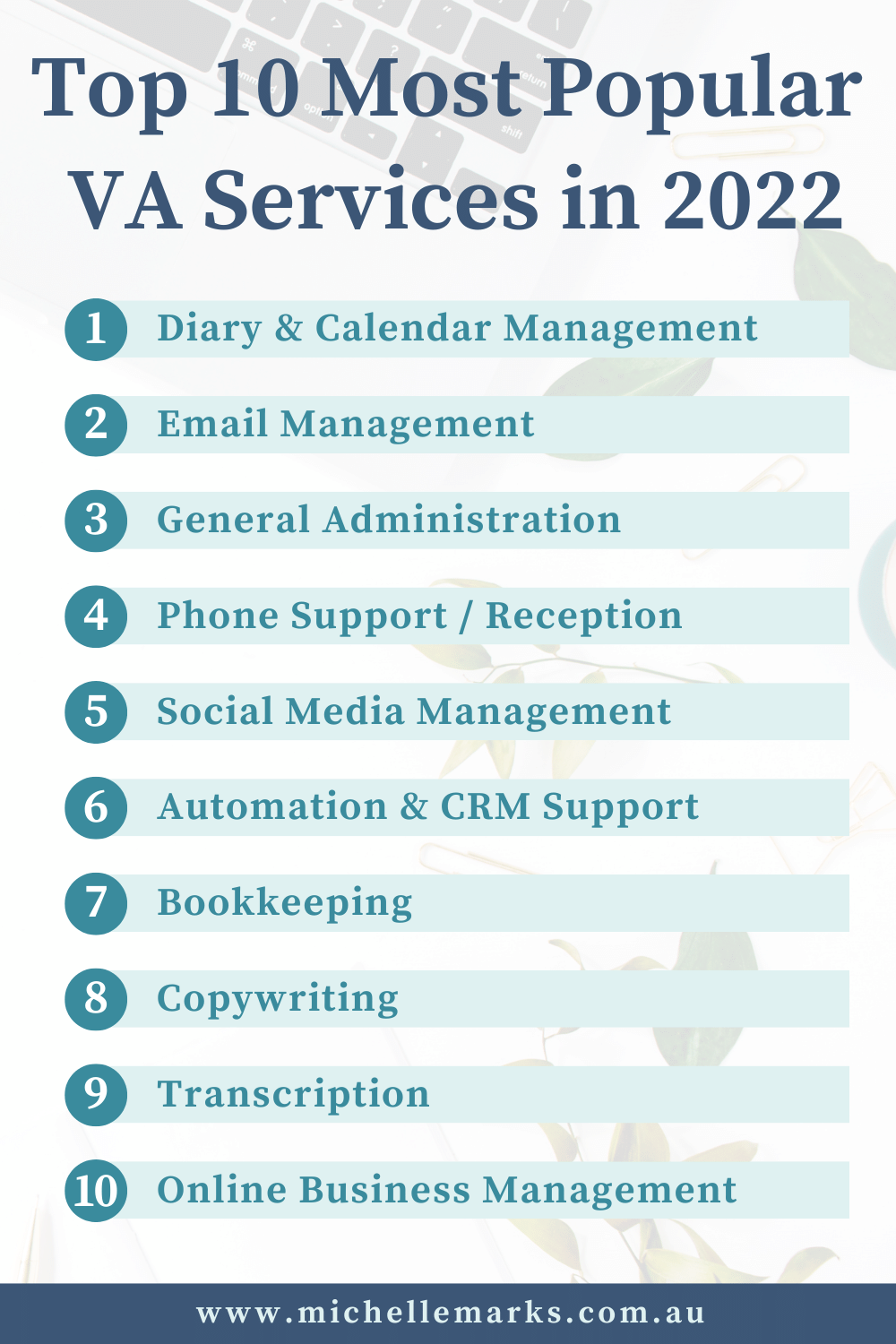 So, what surprised you the most about this list?
About the author
Michelle is a chocoholic, stationery obsessed Business Coach from the seaside town of Mandurah, WA. She specialises in working with Virtual Assistants and B2B service providers, helping them to grow a fulfilling, sustainable and profitable home-based business.
Shall we keep in touch?
Keep up to date with the latest updates, biz resources and training by joining my list. Unsubscribe anytime.