Gaining Clients Without Content Marketing
Spend any length of time on social media and you'll likely stumble across marketing strategies in the spotlight such as social media, email marketing, video content, blogs, and podcasts.
We've all seen those Instagram reels telling us to show up with that content; record that video, write that blog, design that lead magnet. After all, content marketing is a great way to gain new clients, right?
But what if you're not the content creation type? What other option is there for marketing your services?
In today's blog we're chatting about whether you can grow a successful service business without using content marketing, and if so, what kind of marketing strategies can you use instead.
A Content Free Business
When I was 21, I launched a business offering graphic design service. There were periods where it was a full-time gig, but mostly it was a side hustle. 
In the first 10 years of running that business, I never created a single piece of content.
There were no blogs, no website, no YouTube channel, or podcast. I didn't even have social media profiles. Yet I still found and onboarded clients with ease, whether it was a side-hustle or my full-time gig.
When I started running my design and VA business full-time in 2017, I decided to set up social media profiles because I wanted to connect with other women running a business from home. I did see an increase in work and clients because of being more visible on social media groups and Instagram.
But I still didn't create much content other than regular posts on social media.
It wasn't until I started business coaching in 2019 that I started creating content as part of my marketing strategy.
Is Content Marketing Essential?
I've been lucky enough to test the waters, both running businesses that didn't utilise content marketing, and businesses that do.
So, do service-based business owners need to create content to be successful?
In short, my answer is no, not necessarily.
I will elaborate, but first I'd like to point out, that I absolutely love content as part of a marketing strategy. It can be a highly effective and enjoyable form of marketing your services and connecting with clients.
I'm not anti-content marketing by any means. However, I do know that content creation isn't for everyone. It can be anxiety triggering, or terrifying for some people (yes, really!) If a client of mine wants to put themselves outside of their comfort zone, then I'll certainly help them overcome their fears. But I'll never push someone into implementing a strategy they're uncomfortable with.
Other Marketing Options
So, if content marketing is out of the equation, for whatever reason, what other options are available to us as business owners?
Firstly, let's talk about what marketing is supposed to achieve for your business.
The role of your marketing strategy is to connect with potential clients and to encourage them to engage in your services or to buy your products. The potential client needs to:
Know you exist as a business
Have a need for your services
Trust that you'll deliver results enough to engage with you
That's what your marketing does. It should connect you with your ideal client in a way that encourages them to want to work with you.
Content marketing helps you achieve this by teaching, entertaining, and inspiring them. Your potential clients get to know you through your content.
However, other forms of marketing can achieve this as well. Here are some options for service-based business owners who do not want content to be part of their marketing strategy. (If you are creating content, these are also great options to combine with your content marketing)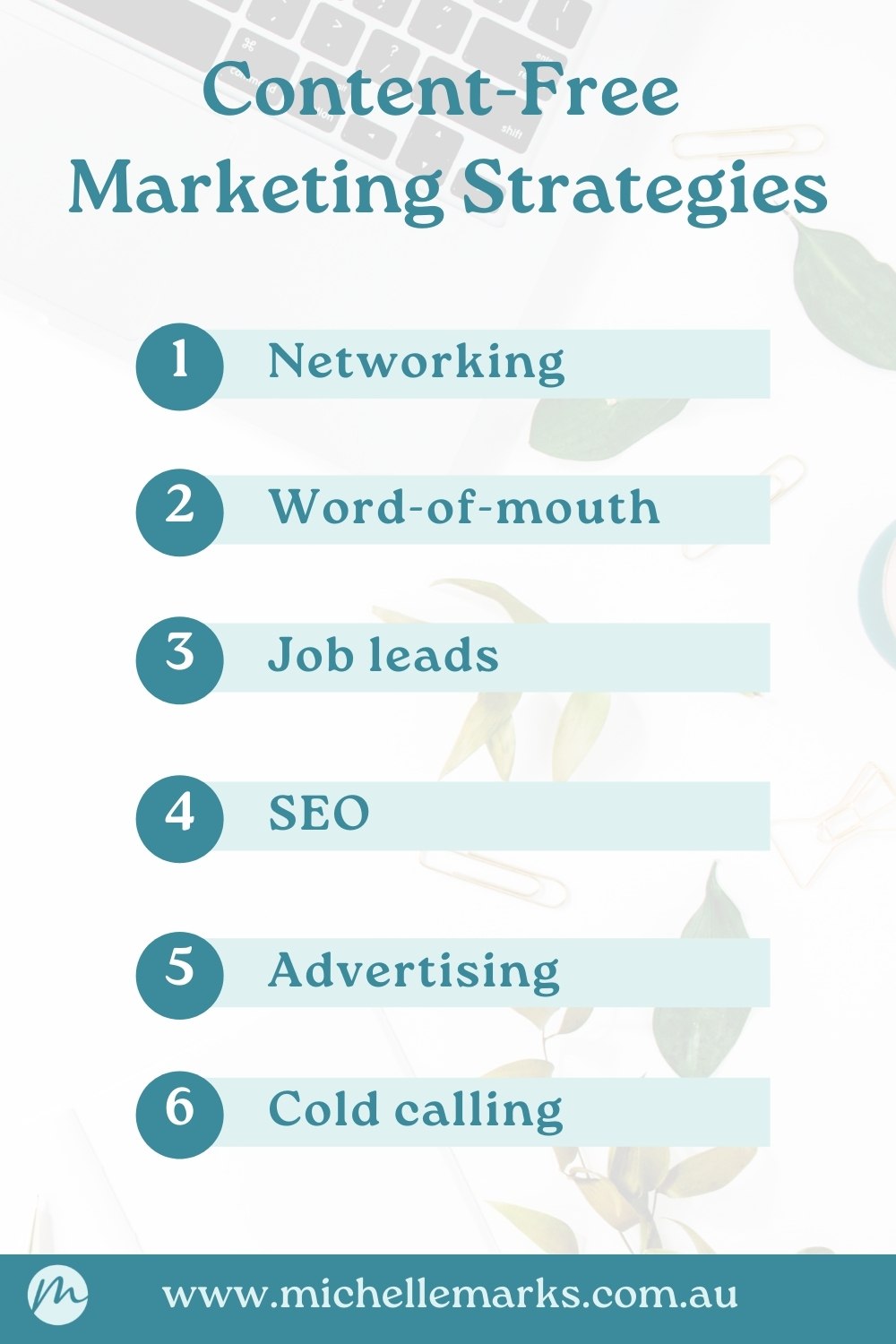 Networking
The most highly effective way to grow your client base is to talk to people. It's really that simple. If you're a social person who loves to get out and meet people at networking events, then networking must be part of your strategy. You'll be in your element!
In the online world we live in, we can connect with people at the click of a button. But there is nothing like connecting with someone person to person. The bond can form so quickly, and conversations much richer in person.
Why not see what local networking groups are happening in your local area?
Or perhaps invite a few business friends out for a coffee.
Maybe a local business group is organizing a catch-up soon. Take a chance and go along.
Word of mouth/referral
Ask any business owner what their top source of new clients is, and I will bet my last chocolate square that they'll say word-of-mouth.
People trust the recommendation of others, especially when that recommendation is coming from a good friend or business colleague. You can encourage word-of-mouth recommendations by mentioning to your peers that you've got some space for a new client. They'll keep their eye out for opportunities and be happy to recommend you.
You can further encourage referrals by asking current and past clients to provide you with a testimonial. This builds up credibility and trust for potential clients who are reading them.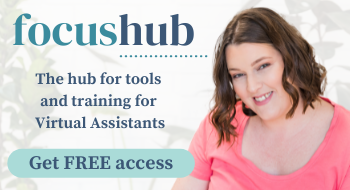 Responding to job leads
One of the fastest way to get started with a new client is to respond to relevant job leads. These are adverts posted by a business who is looking to engage in services like yours. If it is suitable, you can respond to the job request with a proposal to work with them. If they accept, voila!
Most industries will have websites that offer job leads. While places like Fiverr, Freelancer and Airtasker are known for being a low price point, they're still a place to start and get practice for responding to leads.
If you're in the Virtual Assistant industry, I highly recommend joining the Virtually Yours membership which will provide you with high quality job leads, plus a directory listing.
Search Engine Optimisation
If you have a website, you'll want people to be able to find it. If you're not driving traffic (directing people to) your website through content, then you'll want to make sure people can find you by searching.
Engage in the help of an SEO expert who can help you tweak your website so that it's more likely to be found by the right people when they're searching for services like yours.
Advertising
While the 'old letterbox drop' probably isn't the way to go to advertise online services, you can still make use of other advertising methods.
Do some research into directories that will put you in front of the clients you want to work with and set up an engaging listing.
Paid adverts on channels like Facebook, Instagram, Pinterest, and Google can be an option.
Keep an eye out for community or industry events that need sponsors, as this can be great exposure for you.
Cold-Calling
If you're not afraid to pitch yourself, another way to gain new clients is to contact them directly. If you're clear on who you want to work with, and what you can help them with, you can research potential clients and make a phone call, send an email or sample of your work to them.
While your uptake rate will be quite low when cold calling, it really is just an numbers game. The more you can pitch to, the more will call you back.
Summary
If you can't, or don't want to, create content as part of your marketing strategy, then take comfort in knowing that others have built flourishing businesses without content marketing before you, so it won't hold you back from building a flourishing business.
Find the marketing methods that align with your strengths and values, and implement them with consistency and authenticity, and you'll find clients with ease.
What else would you add to this list?
About the author
Michelle is a chocoholic, stationery obsessed Business Coach from the seaside town of Mandurah, WA. She specialises in working with Virtual Assistants and B2B service providers, helping them to grow a fulfilling, sustainable and profitable home-based business.
Shall we keep in touch?
Keep up to date with the latest updates, biz resources and training by joining my list. Unsubscribe anytime.