What to Include in Your Client Welcome Pack
"I've been meaning to create a Client Welcome Pack but I'm stuck as to what to include in it."
Sound familiar? I've got you covered. In this blog I'm going to share 6 things to include in your Client Welcome Pack so you're not staring at a blank Word document or Canva board.
What's a Client Welcome Pack?
A Client Welcome Pack is a PDF you provide to a brand-new client that you've just signed on. It provides need-to-know information for your client and serves as an official welcome to your business.
Think back to when you signed up for physiotherapy, a new gym, or signing a lease for a new rental. You probably would have received a folder of information that you could keep for future reference. That's a client welcome pack.
Why do we send Client Welcome Packs?
When you sign on a new client there's always information they're going to need on hand. Things like contact details, payment terms, and operating hours. Your welcome pack is a handy document that provides everything they need to know for future reference.
The pack also helps them feel welcome and appreciated as your new client. It's an opportunity to build trust and certainty with your client, which helps to relieve uneasiness they may feel.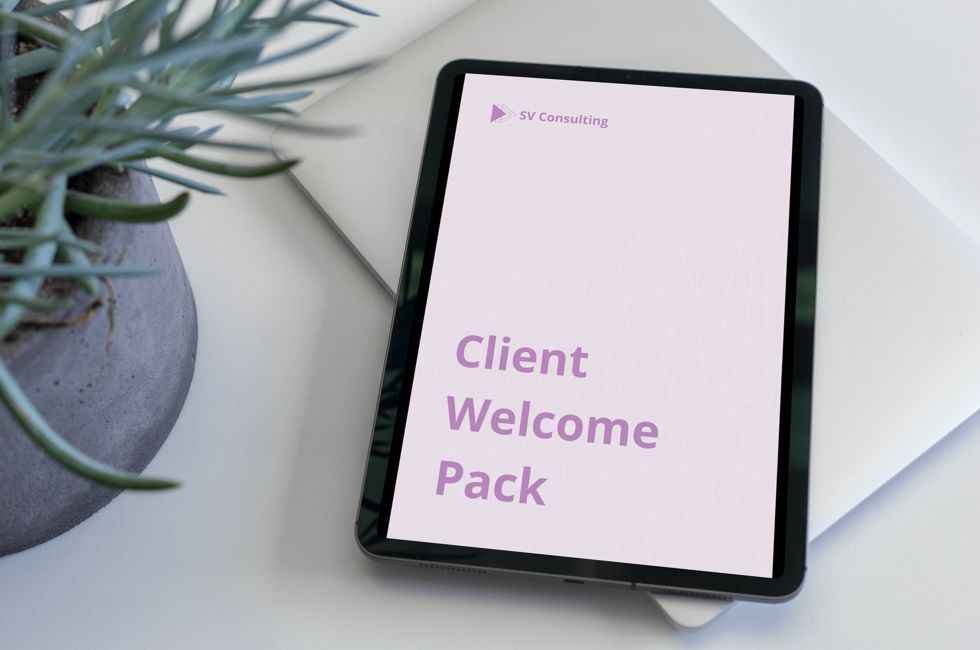 What should I include in my Client Welcome Pack?
If you're working on your own client welcome pack, then here's a helpful guide to what should be included. If you'd like a customisable template that includes all of this information, you can purchase one here.
1.   Personalised welcome message
Start your welcome pack with a warm and welcoming message to your new client. They've just signed on with you so they're likely excited, but also a bit uneasy. It's new territory working with you, so use your welcome pack to help them feel at ease.
Tell them you appreciate the trust they've put into your business, and that you're looking forward to working with them.
Bonus Tip: Create a template that you personalize each time you send it out. It's a bit of extra work, but if you can include the client's first name, and a special message for them, it'll make them feel warm and fuzzy.
2.   Outline the Services
By the time you're sending the client's welcome pack, they've probably already agreed to a specific package, and signed the service agreement. So, while they should already be aware of what they've signed on for, reiterate key information in your welcome pack (there might be people who haven't even read your agreement!).
Include things like the inclusions and limitations of the job, the payment terms, and lead and turnaround time. This clearly sets expectations and boundaries so there's no confusion.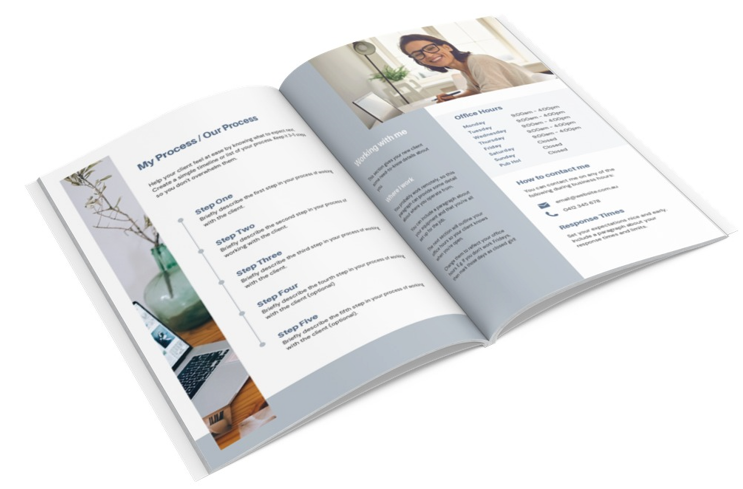 3.   Your Process
Give them insight into your working or project process to make them feel more at ease and excited for the next step. A simple timeline or high-level step-by-step will let them know what they can expect from you.
Bonus Tip: Keep this to 3-5 steps so you don't overwhelm the client.
4.   About Working with You
Your client may find some behind-the-scenes info interesting, so include a section that includes things like where you work, or what software you use every day, or some examples of previous work to inspire them. If it's relevant and on-brand, you could even include some quirky facts about yourself, or share who is in your team.
This section will also include your office hours and response times, so they know when you're available and when to expect a response if they try to get in touch out of hours.
5.   Resources & Tools
If you're working remotely for your client there will be software you'll use together. Things like password managers, file sharing apps, and project management software come to mind. Use this section to familiarize them with the software you'll be collaborating with.
Some service providers like to keep their communication to channels such as Slack or Voxer, and this section is a great place to provide instructions on how to set that up.
Bonus Tip: PDF documents are interactive, so you can add hyperlinks to text and images within the document. Provide links to the software so they can set them up easily. Go one step further by linking to instructions for setting them up.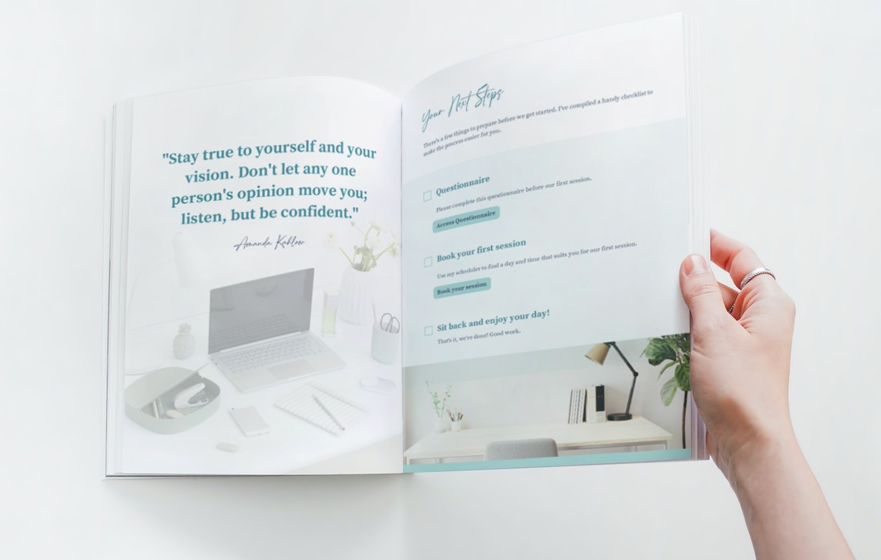 6.   Client's Next Steps
When you start working with a client, you'll probably need a few things from them. Create a section in your Client Welcome Pack that clearly outlines their next steps.
This can include steps such as sharing their login credentials or submitting a questionnaire or project brief.
You can also include prompts and links for them to book initial meetings with you or links to a client portal or shared folders you've set up for them.
Bonus Tip: Try not to overload them here. They're likely busy enough as it is, and it's part of your job to make life simpler for them. So, keep these steps short and sweet if you can.
Summary
If you've been able to create a Client Welcome Pack that provides the need-to-know information and makes your client feel welcome and prepared then well done! It's a great step towards building a more positive relationship with your client.
If you're still struggling on the design or content of your Welcome Pack, or you just want to make the creation process quick and easy, you can buy my Client Welcome Pack template. It's a fully customisable Canva template that includes all the sections mentioned above.
About the author
Michelle is a chocoholic, stationery obsessed Business Coach from the seaside town of Mandurah, WA. She specialises in working with Virtual Assistants and B2B service providers, helping them to grow a fulfilling, sustainable and profitable home-based business.
Shall we keep in touch?
Keep up to date with the latest updates, biz resources and training by joining my list. Unsubscribe anytime.