Attracting clients who share your values
What if I told you that you can intentionally attract a certain type of person to have as a client? Not just one client though. You could fill your diary full of clients you love working with.
Believe me when I say, it is entirely possible.
You don't have to settle for clients who don't respect you or your boundaries, don't pay on time, bargain you down on price, or don't value your time or your process.
You can love who you work with.
And in this blog I'm going to share how you can do just that.
What this article is about:
Being clear on your ideal client
Knowing yourself and your values
How to intentionally attract your ideal client based on your values
Adoring your clients
In a recent mastermind session, I spoke to the girls about how blessed I was to have such amazing members in both of my memberships and as 1:1 clients. They're so kind, and supportive of each other (and me). They're encouraging, motivated and real women doing this business thing. I feel so incredibly lucky to have attracted such beautiful women into my business circle.
But I had a realisation. It wasn't luck. It was purely intentional.
I've been an entrepreneur for the better part of 15 years. In that time, I've learned who I do and don't enjoy working with. There have been people who bargain me down in price, so I did a tonne or work for very little money.
I've worked with people who mess me around and make so many miniscule changes to their project. I remember one client who I did 22 revisions to their logo design. Twenty – two.
There are people who second guess your work, micromanage you, don't trust your process and push you to do what they feel is best - even though you know otherwise.
On the flip side, I've worked with people who felt my work was so good they insisted on paying me more than I had invoiced. People who trust in my process, don't micromanage, and completely respect my contribution to their business.
I've worked with people who were so excited by the project we were working on together that I got excited GIF filled messages after sharing the concepts with them. People who are motivated, positive, and excited about their business.
One of the key things I want to highlight: The people I love working with, mirror many of my values. Both in and out of business.
Here's a few more.
I've worked with women who understand when I'm going crazy juggling business, study and motherhood, because they are too.
I've worked with women who love animals just as much as I do.
Women who are stationery geeks like me.
Women who are supportive and encouraging like me.
Who enjoy a good chocolate binge like me.
People who are real about the ebbs and flows of business and know that sometimes mistakes happen.
I've worked with all sorts. I've dipped my toes in the water enough to know who I want to work with now. I also know what I can do to intentionally attract those people and turn away people who aren't a good fit.
It comes down to what my clients and I value.
You deserve wonderful clients, and they deserve you
Of course, we won't share every single value with our clients. There will still be a few differences between us but there will be plenty of shared values we can bond over.
Bonds that create the foundations of a great working relationship.
The whole point of this article is to share a simple message with you:
There are amazing clients out there, and you can intentionally attract them.
You deserve to work with amazing people who light you up and help you enjoy your business. Not just for the enjoyment though - when you work with "your people" you'll be in a better space to achieve even better results for them. It's a snowball effect. They'll love working with you too, so both sides win.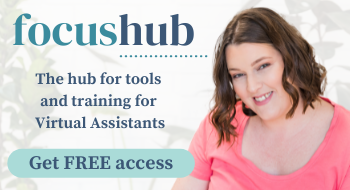 Know yourself first
So, what can you do to start intentionally attracting certain types of people that share your values?
Before I get stuck into the strategies - there's a couple of things you need to be clear on first.
If you want to work with a certain type of person, you need to be crystal clear on who that person is.
You've heard about ideal client profiles, target audiences and dream clients, yes? This is one of those instances where having a clear idea of your ideal client is helpful. You can't attract someone without knowing who they are first.
Secondly, you need to understand yourself, and your values. These values can be related to your business or personal life.  
If you're not familiar with your own values, then spend some time journaling on it, or simply writing a list.
Start by thinking about previous experiences. For instance, if you've previously had a client, boss or co-worker who was disrespectful, or didn't appreciate you, then your value would be the opposite of that. Your value would be that you share a mutual appreciation and respect for one another.
If you have been micromanaged in the past, one of your values may working with clients who trust your process, and let you work autonomously.
Let's look at some values you have in your personal life that can affect your business.
If you're a mother with toddlers in day care, there are inevitably going to be times when you must try and work with the children around. Perhaps you have client phone calls or Zoom meetings when the kids aren't behaving quite so well. If you're working with a client who gets disgruntled when your kids interrupt, then you'll likely end up feeling apologetic, full of guilt and even resentful. It doesn't feel good to work with someone like that.
Or perhaps you've worked with clients who expect you to work on weekends – time that you dedicate to family. In that case you'll want to share the values of family and flexibility. Perhaps you'd like to work with other mothers who are, or have been, in the same situation, so you have a mutual bond and understanding over that fact.
What if you have a chronic illness? You might be battling with pain that won't stick to a schedule. You probably started your business so you could continue working, but to your own schedule - one that might not have worked in traditional employment. In this case you'll need to be able to take down time to rest, recover, attend doctors' appointments and treatments. You'll value clients who respect your need for flexibility. You'll do well to work with clients who, if the results are achieved, won't mind when you do the work. If you need to rest during the day but have peak energy late at night - then you'll find people who understand - and may even be in the same position.
To reiterate, before you can strategically attract a certain type of person, you need to be clear on who they are, and to know your own values.
How can I attract amazing clients?
Now that you're clear on who you want to work with and your own values, I can share some ways you can intentionally attract the clients who share your values.
Using your branding
How you create and use your brand can affect who you attract. If you want to work predominantly with women, then your branding should be unapologetically feminine. The imagery and colours, the fonts, the language, should all appeal to women.
If you enjoy working with engineers, or tradies, or male led industries, then create a brand that men can relate to.
This is high-level stuff when it comes to branding but keep delving and you'll find many ways to incorporate your values and interests into your branding.
If you want to appeal to people who value eco-friendly lifestyles or sustainability, then use colours and imagery that is refreshingly natural. Greens, earthy colours, foliage, nature. Talk about sustainability in your content. Use recycled materials in your printing. Include sustainability messaging on your email signature.
An amazing Graphic Designer that I've worked with, Caryn Rance (owner of Firefly Graphics) absolutely loves animals especially dogs. She values unconditional love and care of animals, and this shows up prominently in her branding. If you follow her on Instagram, you'll see that dogs are the superstars in most of her posts. Caryn's values shine through which naturally attracts anyone who has a love of dogs or animals.
How you shape your brand can influence who you attract.
Using your content
If you run an online business, then you've probably got an online presence. Your website, social media, blogs, and email marketing all contribute to your online presence.
Through these forms of media, you'll be sharing information about you, your business, and perhaps teaching your audience tips and tricks relating to the services you offer.
In the content you share, what you choose to include or exclude can affect who pays attention.
If you're a mum, and you value family time, you can share elements of your mum-life with your audience. Talk about how your kids help you with some work (or how they hinder it!). You can share stories of something special you did on the weekend with them. You can share memes or relatable content about the seesaw life of a mum. (If you're not comfortable sharing pictures or details about your kids, you don't have to go in depth).
If you value sport and fitness, you can share that side of you in your content. Share your workouts, your favourite gyms or yoga studio. You can use stories related to fitness in your blogs, podcast, or marketing. It's a good opportunity for fitness enthusiasts to connect with you.
Perhaps you're really in tune with your spiritual side and want to work with others who share this interest. If that's the case, don't hide it from them. You'll detract those who aren't interested in chakras, readings, and energy healing, which is a good thing. You can't be yourself if you must hide something like that. But you will connect with others who appreciate spirituality too. Talk about it. Use the right language. Be you.
Be prepared to say no
There will be people who are not a good fit. Some people will have values that don't align with yours, and that's ok. But for a better client relationship, and this goes for subcontractors or people you outsource to, you need to gel.
If you're seeing red flags, or have an off feeling about someone, or know that their values don't match up with yours, then you can say no.
If you're in a position where you need to take the work, then it's entirely your choice. You're the only person who can make that decision for yourself. But when you are in the position to say no, you'll be able to recognise the red flags.
If you have boundaries in place, then value those boundaries and say no where needed. If you designate weekends for family time, then you can turn down weekend work. You can say, "I'm happy to take care of this project for you, but work won't commence until Monday." You can respond to these requests with firm fairness, without being rude.
These are the kind of boundaries that all business owners need, not just you.
Being yourself will attract the right clients
In summary, you deserve to fill your books full of clients you really love working with. You deserve to be your true self in your business. And you can intentionally attract those people into your business and detract those whose values don't align with yours.
There are many strategies you can implement to become the magnet for the right people. If you would like help refining your strategies, then I'm here to support you. Whether it's a one-off session, or long-term coaching, I have options that can help you start working with the people that make you happy and fulfilled in your business.
If you're unhappy with the clients you work with, then you have the right to change. Don't ever forget that.
About the author
Michelle is a chocoholic, stationery obsessed Business Coach from the seaside town of Mandurah, WA. She specialises in working with Virtual Assistants and B2B service providers, helping them to grow a fulfilling, sustainable and profitable home-based business.
Shall we keep in touch?
Keep up to date with the latest updates, biz resources and training by joining my list. Unsubscribe anytime.