6 apps I use inside my coaching business
For over two years I've been running my business as a coach and trainer for Virtual Assistants. Prior to that I was a Virtual Assistant myself. As a lifelong online business owner, it goes without saying that I live and breathe technology.
Having the right tools for the job certainly helps us to work smarter.
In today's blog, I'm sharing 6 of the apps and software that I use every single day inside my coaching business.
I share some affiliate links in this blog, and if you decide to use the software yourself, then if you sign up using the links on this page I'll receive a small commission (at no cost to you). But I recommend these apps because they're so useful and have helped me streamline a lot of processes in my business, and they could help you too!
In this article I talk about:

#1 Simplero
What it is:
Simplero is an all-in-one platform that allows the business owner to host their website, email marketing, courses, memberships, and products in one package.
How I use it:
Design and host my website
Holds my memberships, programs and sessions
Manage my email marketing
My digital products (like courses, digital downloads, templates etc)
Stores my customer information and lead scores
Manages my affiliate program
My website (including the blog you're reading) is hosted on Simplero. The website creator is so simple, yet powerful. I don't feel limited at all in what I'm creating – plus – I don't have to keep adding plugins for everything like WordPress. I'd struggle with SEO for other platforms, but it's easy with Simplero.
Why I love it:
Simplero is top of this list for a very good reason. When I first started searching for a platform to host my membership, I trialled a couple including Podia, Kajabi and Kartra.
I found Podia to be clunky, and Kartra didn't make the cut because I couldn't host my main website on it.
I thought about going to Kajabi, but was hesitant because of the cost. I thought, "I'll go with Simplero until my membership grows and then I'll switch to Kartra." But honestly, I'm so in love with Simplero that I'm never leaving! Sorry Kajabi.
Simplero ticked all the boxes: website, membership, course, email marketing. And so seamlessly. It all works so well together.
Simplero's customer service is second to none. Any time I need to know how to do something, I first visit the guides. If I don't find the answer, I message the team. They usually get back to me in half an hour, with a friendly and helpful solution.
If you're looking for a powerful platform that takes care of your website, membership, courses, products, and email marketing – give Simplero a try.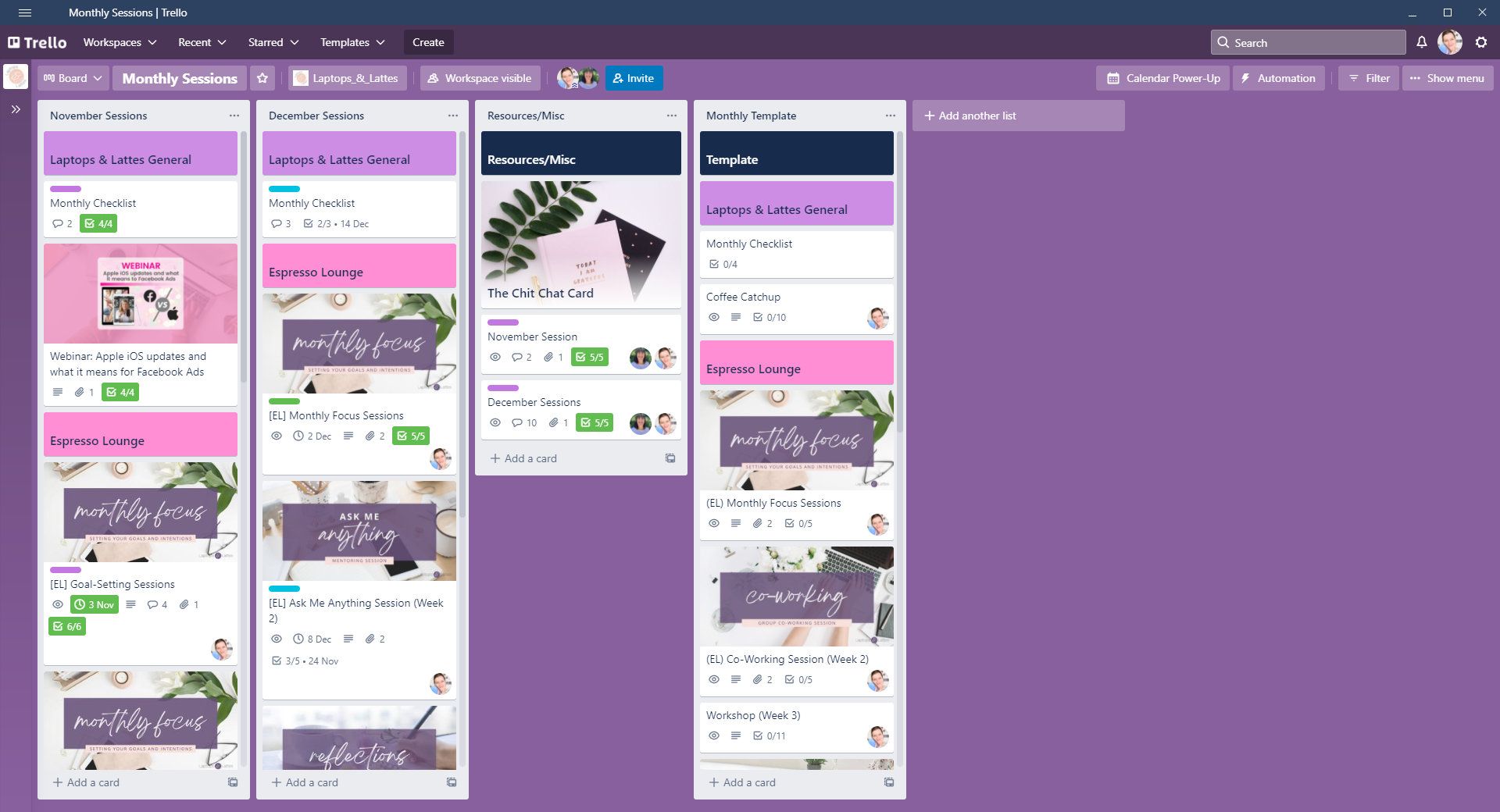 #2 Trello
What it is:
Trello is software that helps you manage your projects and tasks, similar to Asana or Click-Up.
How I use it:
Manage my to-do lists and projects
Manage my monthly membership events
Collaborate with my Virtual Assistant
Plan my social media content
Client on and off-boarding
Why I love it:
Anyone who knows me in the business world will know how obsessed I am with Trello. I previously used Asana to manage my workload. While Asana was fantastic, it just didn't quite fill the void. When I tried Trello, it was instant love.
I love the visual aspect of Trello. It's like a wall of sticky-notes, but each sticky-note is like Mary Poppins' handbag. In each card (Trello's name for each "sticky-note") you can store text, images, files, checklists and due dates.
It's not as complex as Click-Up, so if you're looking for a simple and visual task management tool, Trello is a strong contender. Although, task management software is a personal choice, so if it doesn't suit you, keep trialling others. Asana and Click-Up are brilliant alternatives.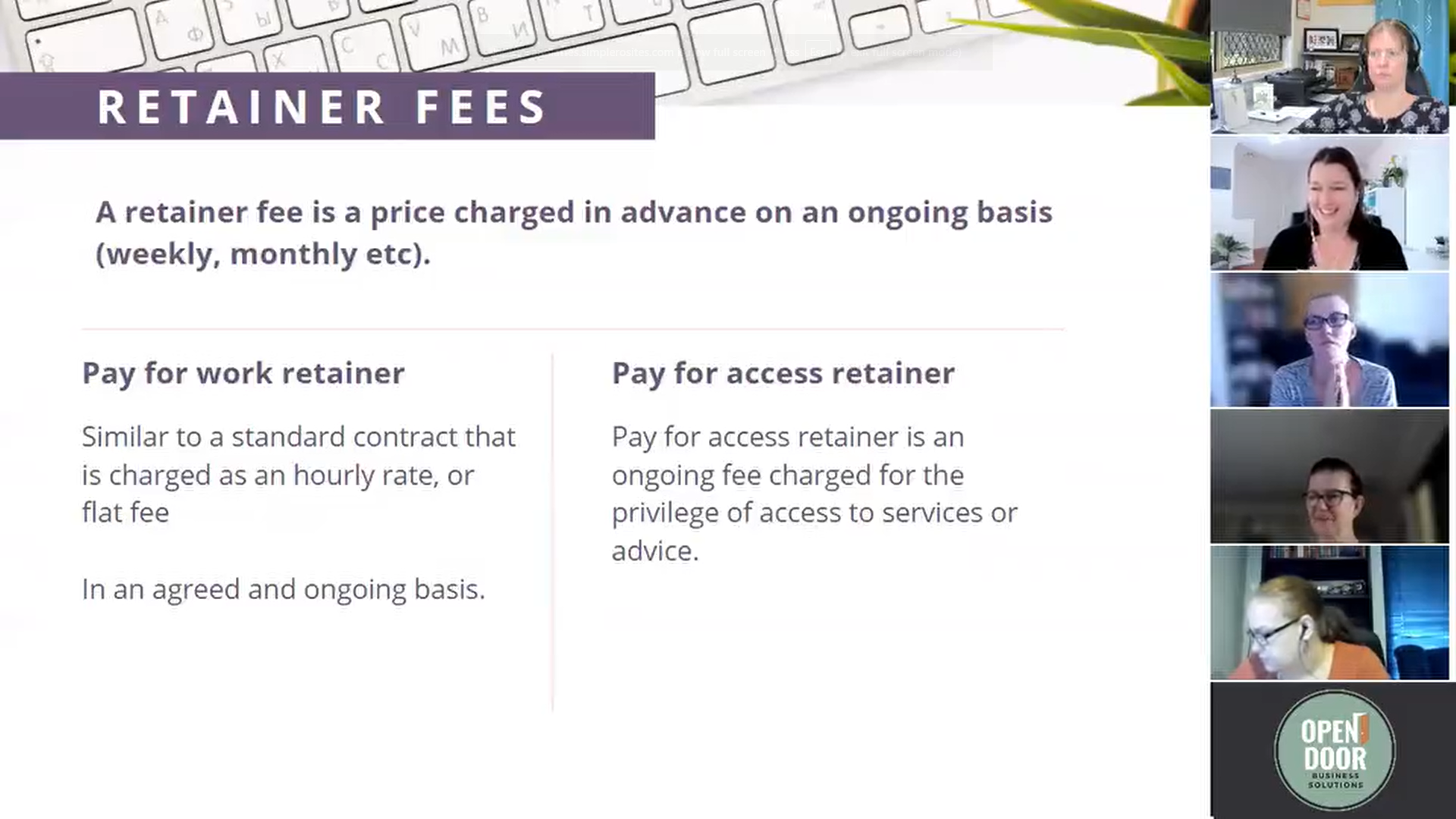 #3 Zoom
What it is:
Zoom is virtual conferencing software that allows you to video call others via internet very similar to Skype. Within the software you can host 1:1 meetings, or group sessions, and share your screen, chat, share polls and split rooms up.
How I use it:
1:1 client meetings
Coaching sessions
Training sessions
Team meetings
Recording my YouTube videos and tutorials
Why I love it:
Zoom has been my go-to software for meeting with clients, and hosting workshops for my members since the start of my business. Not only that, but I use it to talk to family interstate as well.
It's easy to use, with free and paid options, and integrates with many other apps as well.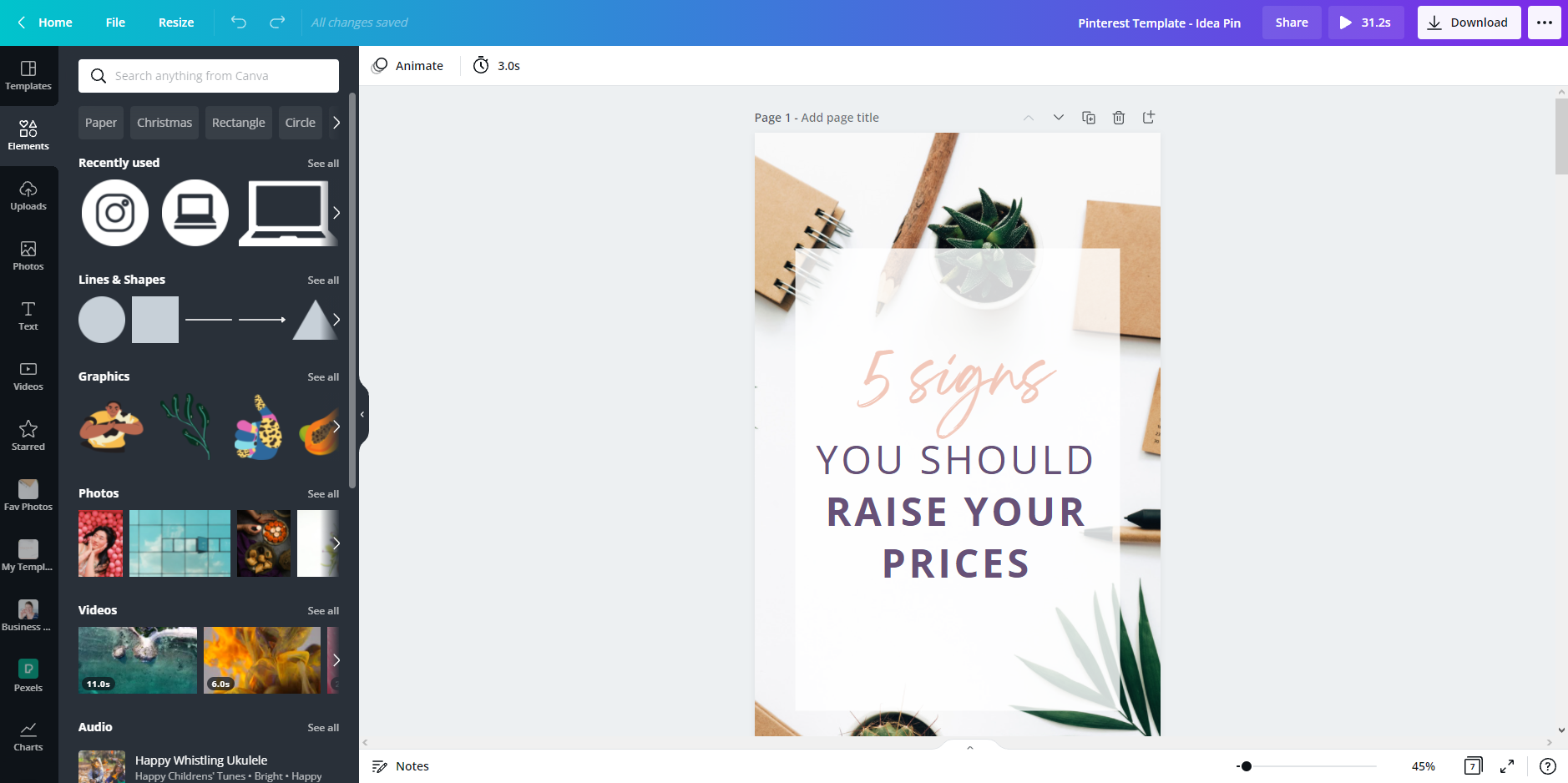 #4 Canva
What it is:
Online graphic design software for beginner and advanced users.
How I use it:
Website graphics
Social media graphics
Member workbooks
Why I love it:
As an ex-graphic designer, you'd think I'd be using industry standard software like Adobe Illustrator. While I exclusively used the Adobe Creative suite when I was designing for my clients, now that I'm only designing for myself, I absolutely love Canva.
What I find most useful with Canva, is the library of stock images, videos, illustrations, colour palettes, and fonts right at your fingertips.
Another useful feature is its graphic sizes. It has a library full of premade templates at the correct sizing. I don't need to search "Facebook graphic sizes" or "Pinterest Pin Resolution" anymore, because it's right there.
And with other features constantly being introduced (at time of writing they're working on video editing) it's becoming one of the most versatile tools available to a business owner.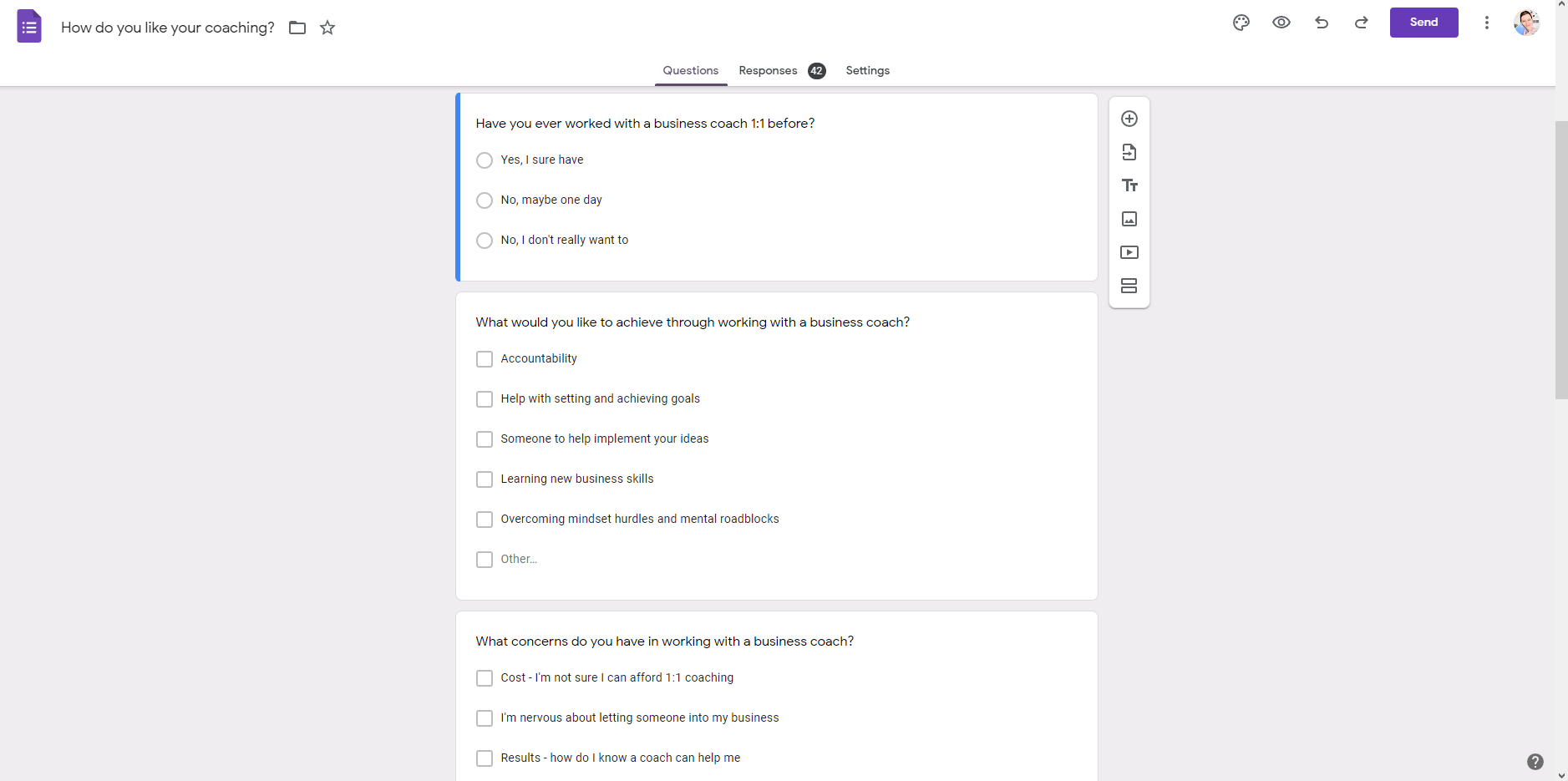 #5 Google Workspace
What it is:
Google Workspace (formerly G-Suite) is a collection of online apps such as Gmail, Calendar, Google Docs, Forms etc. They're very similar to Microsoft 365 apps, with a few key differences.
How I use it:
Google Drive for cloud storage (also sharing workbooks and files with clients)
Google Docs for creating lesson plans
Gmail for managing my emails
Calendar for my appointments
Collaborative editing with my VA
Forms for market research
In automation steps (with Zapier)
Why I love it:
I always have (and still do) use Microsoft Word and Excel programs. However, I found that I needed to share and store online. So, I started using Google Workspace, which allowed me to store and share files on the cloud.
I can work inside of Google Docs or Sheets live with my clients or my VA at the same time. Edits are live and we can both work together simultaneously.
Sure, I can do that in Word (Microsoft 365) but I am using Google for my email and calendar anyway, so why not do it all inside Google?
If you're looking for the essential features of Word and Excel, but find Microsoft a bit glitchy, try Google Workspace.
#6 TidyCal
What it is:
TidyCal is software that allows clients to book their own appointments in my calendar. Just like when you order a pizza online, TidyCal allows my clients to book appointments with me when it's convenient to them.
Alternative to Calendly and Acuity.
How I use it:
Clients book discovery calls with me
Clients book coaching sessions with me
Why I love it:
While I'm more than happy schedule a session together with my client, I know some people like to schedule appointments in their own time. That's what TidyCal does for my clients. They can click on the link and book a session whenever they want.
And you know those back-and-forth emails where each person tries to find a time that suits both? It skips that part because TidyCal pulls information from my calendar so it only shows appointment slots where I'm available.
While I take payments through my website, TidyCal is capable of accepting payments via PayPal and Stripe - which is excellent if you don't have payment functionality on your website.
Bonus! At time of writing, TidyCal is on a super special lifetime deal with AppSumo. You can get lifetime access to all the features of TidyCal for only $29 USD. This is great for those who just want to pay a one-off fee for their scheduling software rather than pay a monthly subscription.
Other tools I love
While I'm quite tech-savvy, and have been using computer software since I was knee-high to a grasshopper (to my global readers, that's an Aussie expression for "since I was young"). The 5 apps above are tools that I simply cannot live without to run my business. They're apps I use every single day and I vote as must-have apps to manage and run my coaching business.
It's not the full list though. Here are some other apps that I use inside my business:
Zapier – integration software that connects different apps together.
Reckon – accounting software.
Miro – for building workflows, brainstorming, and planning.
Stripe – payment processor that links with my membership and courses
PDF Escape – for making my PDF worksheets fillable.
My notebooks – because I still love writing by hand!
That's my list of software and tools used inside my business. What software do you love to use inside your business? Let me know in the comments.
About the author
Michelle is a chocoholic, stationery obsessed Business Coach from the seaside town of Mandurah, WA. She specialises in working with Virtual Assistants and B2B service providers, helping them to grow a fulfilling, sustainable and profitable home-based business.
Shall we keep in touch?
Keep up to date with the latest updates, biz resources and training by joining my list. Unsubscribe anytime.