Different Ways to Niche Your Business
 A niche in business is a very refined part of the market that you focus on serving. It's another way of saying you're a specialist in your field. In other words, if you have a niche then you solve a specific type of problem, for a specific type of person.
If you'd like to learn more about what a niche is, take a look at my article, "What is a Niche?"
The different ways to niche

How a niche looks will be very different in each business because there are so many different ways. If you solve a specific type of problem for a specific type of person, then depending on your business, there are many ways you can define that.

So let's look at a few:

By Demographic

You may want to focus on working with certain demographics. You may choose to work with men, or with women. You may want to help people over 50, or with kids. A resume writer will focus on people who are currently unemployed, or looking for work. A photographer may focus on helping pregnant women, or couples getting married.

These are examples of niching by demographic.

By Location

Location is another way to drill down your specialisation. If you're a brick and mortar only business then you'll be location dependent. If you're a beauty therapist in the Sydney CBD you'll only target the people that live within the Sydney region. That's your location niche.
If you're an online business then the location of people you help can be quite broad. Yet, you may still prefer to target a smaller area, perhaps in your local city.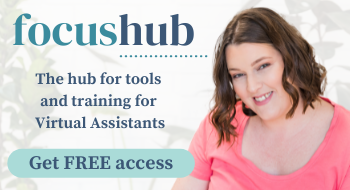 By Service Type

Virtual Assistants (or VAs) are a great example of niching by service offering. The services a VA can offer are vast. But rarely do VAs offer every service imaginable. Some may offer a few, or even one main service like transcription, diary management or social media management.

Graphic designers are another example. There are many things that a designer can create (anything with a surface, really!) But a designer with a niche may prefer to work only on brand development, or packaging design, or websites.

By Industry
You can also specialise your service business by helping clients in a particular industry or sector. Often this is because the business owner has extensive experience in that industry and understands the unique challenges and requirements of that industry.
As an example, a Virtual Assistant who specialises in helping law firms will understand the requirements of Lawyers and Paralegals, the challenges they experience, their restrictions etc. For this reason you can see why a specialised VA would be valuable to the law firm: they understand.
By Style

In some service businesses, namely creative businesses like writers and designers, the services call upon on their individual style. A graphic designer may be extremely talented in designing feminine light minimalist style. If a client requests a design in grunge, a style that is not one of her strengths, she may want to steer clear of that job.

Sometimes if the skill is out of your zone of genius, you'll struggle with providing the value for your clients. Having a niche helps you work to your strengths.

By Values

Another way of narrowing your niche is offering your service to people possessing certain values. Here's an example. Think of a marketing consultant who is vegan. They may choose not to work with a butcher because they have such conflicting values.

Another example is a business owner who values sustainable living. She may prefer to work with other businesses that are working towards sustainability, or developing eco-friendly alternatives.

These are examples of how you can define your niche by your values.
A Combination of the Above!

You can see there are many different ways that you can niche your business down. Often, it is a combination of the above points that creates the foundations of a niche.

As an example, a Social Media Manager is a Virtual Assistant who offers only one type of service. She helps business owners with creating and scheduling content for their social media. She doesn't offer general administration, transcription or reception, for example. So she offers specialised services.
The same Social Media Manager might have a particular style. If she is fluent in designing graphics that are feminine, and she finds herself relating to female clients really easily, then she may choose to work specifically with other female business owners.
She may also like to focus on managing social media for health professionals. She may have come from a medical administration career and understands the challenges and restrictions that a business in the health and wellness sector may encounter.
Our Social Media Manager has niched in the following combined ways:
by service type (she offers social media management)

by style (feminine design style)

by demographic - gender (she relates to and works with women)

by industry (she works with health professionals)
In summary
Many business owners believe that to niche their business means they only offer one type of service. As you can see from reading this article, there are many different ways you can narrow your focus to define your niche.
Have a think about your business. Are you a generalist business, or a niche business? If you're a niche business, in what way do you define yours?
If you'd like help defining your niche feel free to contact me, because there are a few ways I can help you.
About the author
Michelle is a chocoholic, stationery obsessed Business Coach from the seaside town of Mandurah, WA. She specialises in working with Virtual Assistants and B2B service providers, helping them to grow a fulfilling, sustainable and profitable home-based business.
Shall we keep in touch?
Keep up to date with the latest updates, biz resources and training by joining my list. Unsubscribe anytime.