5 ways to grow your VA business
If you've been running your VA business for a little while, then you've had some time to figure out what's working and what's not. You've dipped your toes in the water and now you're ready for the next level.
In this blog, I'm going to talk to you about a few different ways you can grow or scale your Virtual Assistant business, to get you thinking about ways you can get there.
Congratulations
Let me start by saying. Congratulations.
Give yourself a hug for reaching this point in business because it is quite an accomplishment to get past the start-up phase and into growth. Not every business owner gets to celebrate that milestone.
So what's next?
You've probably heard the terms of growth and scaling in the business world before. So, is that your next step? I'm going to say probably.
Even if you're not in business to build a big empire, it's likely that your business is at a point where you'd like to improve, change, grow, scale or even all the above. So when I talk about growth in business, that could be scaling your team, growing your skills, your offerings, or making significant changes in your business.
Growth looks very different to every VA.
Growth vs Scaling: What's the difference?
Is there actually a difference between growing and scaling your business? Yes. There is a little difference, and here's a run down:
Growth
Growing your business means that you are expanding 'something' to increase your revenue, usually with your expenses expanding too. Examples include:
Expanding your available capacity
Expanding your team to enable your business to take on more clients
Expanding your marketing expenses to grow your reach
Scaling
Scaling on the other hand means that your business is increasing your revenue, but without significantly increasing your workload or your expenses. Examples include:
Streamlining your software and processes
Increasing your prices
Adding "passive" revenue streams
Which is better?
Don't get too caught up in the definitions. None is "better" than the other, they're just different ways of growing your business moving forward.
So, should you grow your business, or should you scale your business?
Sometimes it's a combination of both, and I'm going to share some of the effective ways that you can increase your revenue and take your business to the next level as a way of growing and scaling.
#1 Specialise your services
The first way is to specialize your service. If you've been offering services for a while, then you probably have a good idea of which ones you enjoy, are most highly sought after, and are ones you get best results with.
So, can you niche your services to become a specialist in that service?
When you niche your business and start on the path to becoming a specialist, you become even more proficient in solving specific problems for your client. You'll become better known as that go to women for that service.
This translates into the ability to charge a higher price for your services. In doing so, you can focus on doing what you love, working with clients who are focused more on the outcome (rather than the price) and earning more for it, without increasing your workload.
#2 Grow your team
You probably started out in business desperately wondering when the next lead would come in, right? But now you're feeling like you can't keep up with everything?
A way to grow your business without doing more yourself is to grow your team. Your team can help you take care of tasks and projects that you either don't enjoy doing, don't have the skill for, or just plain don't have to time to do.
If you want to expand your business to one day become an agency or multi-person team, then you can consider hiring employees or contractors to help you.
If that's not what you want, you can still grow your team.
Your team also includes people who take care of your admin, marketing, and financials.
You can engage in your own VA to help you. Or a social media manager, or graphic designer, or bookkeeper. Anything that can take some of the burden off you, so you have more time to either work for your clients, on your business or leisure time. All 3 are important.
#3 Add income streams
Another way that you can scale your business is by adding additional revenue streams.
This is effective when you've reached your capacity for helping your clients and want to help more people or earn more revenue.
Additional revenue streams can look like:
Earning money from affiliate referrals
Creating digital products (such as courses, templates, downloadables)
Hosting group programs
Turning your offer into a membership
Related video: Affiliate Income: Can it work for VAs?
#4 Streamline your systems and processes
Growth in business doesn't always mean your have to getter bigger. Growth also looks like streamlining things in your business in order to free up your physical and mental capacity.
What can be streamlined in your business? Here's a few ideas:
Revise your onboarding processes
Are there any steps in your onboarding workflow that can be removed or simplified? Perhaps instead of creating a new quote every time, you can create templates or even automate the process in your accounting software.
Automate invoicing
If you manually send recurring clients their invoices, perhaps it's time to set up recurring invoices?
Integrate your software
A lot of software can integrate with each other, meaning two different software can link together to complete tasks. Perhaps you can explore different integrations with the software you currently use.
As an example, you can configure your task management and email software to send tasks directly from a client email to your Trello or Asana board, saving you the time of copying and pasting.
Zapier is an app that links software together if there is not built-in integration.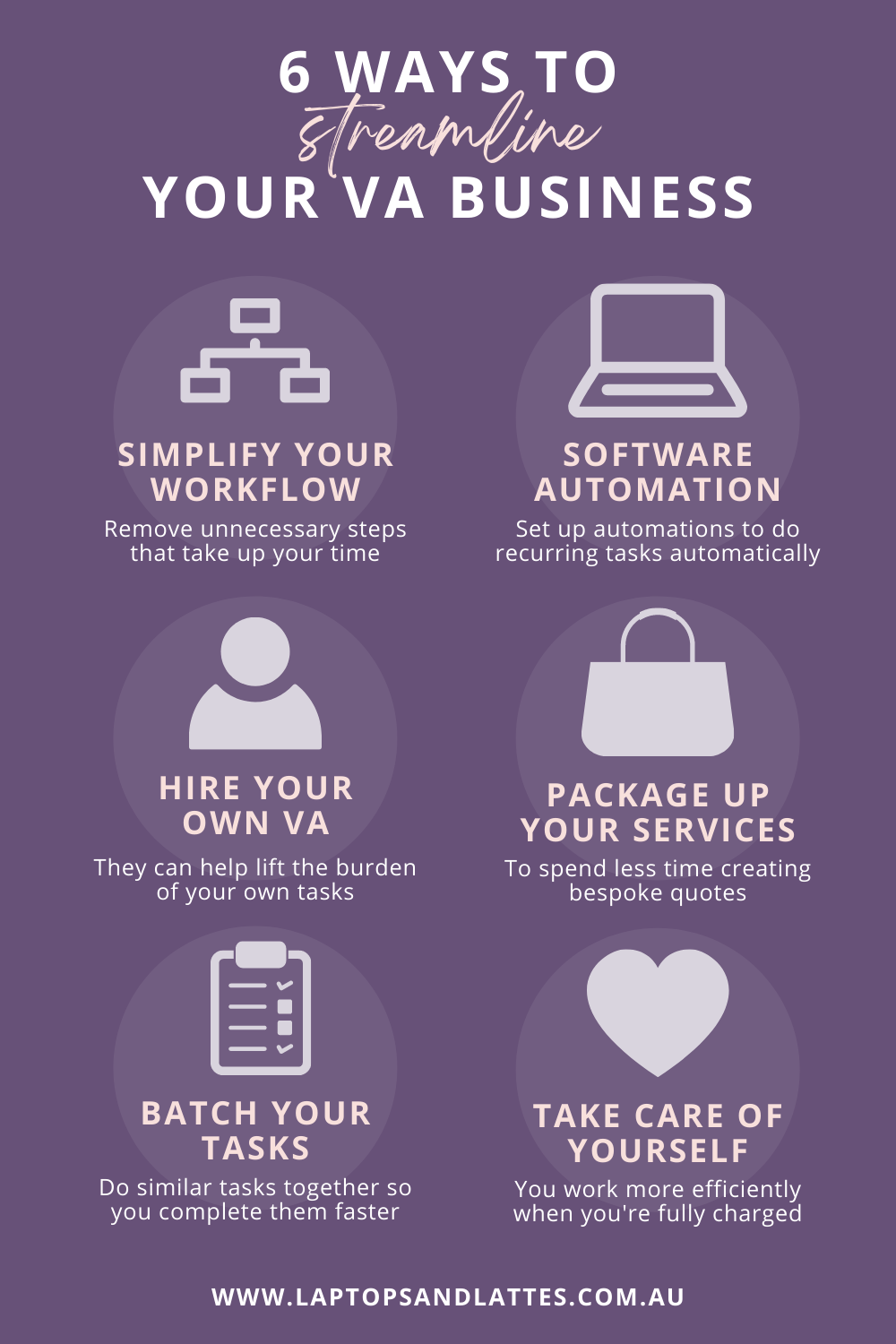 #5 Increase your prices
One way to scale your business without adding extra work or expenses? Increase your prices.
Have you had a price increase lately?
If not, it's about time you did. The thing is, you've been working for your clients for a while, and every week you get more efficient at what you do. Perhaps you're even skill-building and improving your own knowledge.
As you become more proficient, you need to increase your prices.
If you increased your rate for all your current prices by 10%, how much extra would you be earning each month? That extra income can help you support your family, your continued education, and building your team.
What's the right way to grow your business?
There's a lot of ways, you can grow your business and what works for one business owner may not necessarily work for another.
It's very important to align yourself with your bigger picture, or your dream future, because that's what that's what's going to help you make those important decisions.
Exercise
Spend some time thinking about your ideal future. Visualise where you see yourself and your business in six months' time. Or 12 months' time.
What changes can you make in your business that will help you achieve that ideal future?
Sometimes it's not easy to do this work by yourself. Working with a Business Coach can help you navigate the journey of your next level in business. They can help you unlock your ideal future and identify what you need to do to make it happen. They can help you find the confidence in your decisions. And there will always be challenges and mindset, hurdles that you'll experience when you're in this sort of growth phase so a Business Coach can help you work through those challenges and keep you accountable.
With support and accountability, you are more likely to achieve your ideal future.
If you like the idea of support in your business growth, reach out to me so we can chat about how I can support you.
Happy growing!
About Michelle
Michelle is a chocoholic, stationery obsessed Business Coach from the seaside town of Mandurah, WA. She specialises in working with Virtual Assistants and B2B service providers, helping them to grow a business that fulfills them, without feeling the overwhelm and angst that comes with running your own show.
About the author
Michelle is a chocoholic, stationery obsessed Business Coach from the seaside town of Mandurah, WA. She specialises in working with Virtual Assistants and B2B service providers, helping them to grow a fulfilling, sustainable and profitable home-based business.
Shall we keep in touch?
Keep up to date with the latest updates, biz resources and training by joining my list. Unsubscribe anytime.